About XII Media Forum
June 22—27, 2012
Exhibition at the Ekaterina Cultural Foundation: June 22 — August 19, 2012
Organized by: MediaFest, MediaArtLab Centre for Art and Culture, The Cultural Foundation Ekaterina
With the support of: Mondriaan Foundation, British Council
Partners: ARTPLAY Design Centre (Moscow), Centre Pompidou (Paris), Museum of Cinema (Moscow), Archive Vasulkas (Santa Fe)
Curator of the exhibition projects: Olga Shishko (art historian, curator, director and founder of the MediaArtLab, director of the MIFF Media Forum)

Moscow International Film Festival (MIFF) is held since 1959 and gradually it has become one of most respectable and prestigious film-forums in the world. In 1973 MIFF was registered by the International Federation of Film-producers associations (FIAPF) as an «A» class film festival alongside with those in Berlin, Cannes, San-Sebastian, Karlovy Vary and Venice.

This is the 13 year Media Forum is organized as part of the Moscow International Film Festival. The role of new media in audiovisual art and culture received due recognition and Media Forum was immediately introduced into the official program of MIFF. Media Forum as action is an exchange of ideas, infusion of new forces into contemporary culture and vice versa. It is an attempt to demonsrtate the logic of new thought and new communications. At the moment it is inside media culture that new ideas go through trial and approbation, ideas that cannot be realized in contemporary art context.
For the thirteen years that the Media Forum programme has existed its organizers had to explain in almost every interview what the project wholly dedicated to visual art is doing on the territory of cinema. What do sound performances, video art, multi-channel installations and net art have in common with the film sphere? Each year Media Forum tried to explain this in its events: Peter Greenaway delivered a whole lecture on death of cinema for the triumph of visual art, artists, filmmakers and critics at Media Forum panels discussed the border-line aesthetics, Media Forum guests, such as Eve Sussman, Gary Hill, Jesper Just and others have each year and with very programme brought to Moscow their premiers on the edge of cinematic and fine arts. And finally this year the organizers decided to answer all questions summarily with a large-scale project demonstrating the flow of forms, subjects, themes, meaning and ideas from one sphere of the visual into another. The basic idea for this comparison was the concept of expanded cinema.
---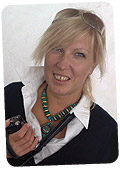 Olga Shishko (art historian, curator, director and founder of the MediaArtLab, director of the MIFF Media Forum):
"The Media Forum is a programme at the Moscow Film Festival which has been created especially to expand the familiar borders of cinema and to show that it can vary not only both in content and artistic construction of the text, but also from the formal point of view, the technology of its making and the viewing situation. The language that Media Forum uses to talk to its audience belongs to both cinematic and artistic principles, enriching them both equally.
The central event of this year's Media Forum is the "Immersions. Towards the Tactile Cinema" exhibiton. This exposition at the Ekaterina Foundation continues the Expanded Cinema project that started in 2011. Its exhibitions took place at two Moscow locations, the Garage Centre for Contemporary Art and the Moscow Museum of Modern Art, and presented the newest works expanding the territory of the cinematic. In 2012 our goal is more fundamental — to trace the process from the classics' ideas and developments which were at the source of both contemporary cinema and contemporary art, all the way through to contemporary young artirts who present their own versions of interactive, non-linear or haptic cinema.
Apart from the exhibition, the Media Forum programme includes workshops, lectures and seminars by artists that will take place at the Ekaterina Cultural Foundation and at the ARTPLAY Design Centre".
---
Exhibition "Immersions. Towards the Tactice Cinema"
The Ekaterina Cultural Foundation, June 22 — August 19, 2012

Exhibition "The Immersions. Towards the Tactile Cinema" consists of several sections each belonging to a certain type of director's approach to working with screen and viewer. The first section, Pure Cinema, is a reaction to art for art' sake. Here screen is used as a canvas, actually presenting cinema as an apotheosis of painting. Works by Kazimir Malevich, Mikhail Matyushin, Nam June Paik, Ken Jacobs, Paul Clipson, Hans Richter, Konstantin Adzher, Oleg and Olda Ponomarev are presented.
Attractions' Montage, the second section, is based on the "4D cinema" concept invented initially by Sergei Eisenstein and presents his followers: Pia Tikka, Herz Frank, Alexei Isaev and Elena Gorbacheva.
The third section, Tactile Cinema, is about films that can be "watched with hands", starting with Salvador Dali's ideas. While working with Luis Bunuel, Dali had quite another vision of the Chien Andalou realization. This is followed by VALIE EXPORT's "gripping watching" (beside which works by the TOT-ART group, Valery Ayzenberg, Ekaterina Pavlova and Constantin Semin are presented).
The forth section explores the Machine vision idea by Woody and Steina Vasulkas — a device that can replace both the film director and the viewer, supplanting individual and inaccurate human vision by an objective gaze of the camera itself. Here Ken Jacobs, Dina Karaman and Alexandra Kuznetsova are also presented.
The Interactive Cinema that unfolds with viewers' participation is the fifth section comprised of works by Zbigniew Rybczyński, Chris Hales, Boris Debackere, Perry Bard, Mark Amerika and Olga Kisseleva.
Screenings and workshops by the Media Forum participants
Media Forum of the Moscow Film Festival has a tradition of both screening the most interesting works that expand our notions of cinema and video art and also organizing a special educational programmes yearly. We invite artists, cinematographers and theorists to deliver lectures and seminars on new screen culture perception, interpretation and creation. This year Media Forum is focused on various forms of tactile, haptic and interactive cinema. You can learn more about it at workshops by Chris Hales (UK), Perry Bard (USA) and Boris Debackere (The Netherlands).
Expanded Cinema—II research catalogue
Towards the exhibition we plan to publish a catalogue compiling articles on tactile cinema, its history and theory and on contemporary artists working with such cinema. Among our authors are VALIE EXPORT, Piotr Krajewski, Zbigniew Rybczyński, Chris Hales, Naum Kleiman, Kent Long, Olga Shishko.
Locations:
The Ekaterina Cultural Foundation
Kuznetsky Most 21/5, porch 8
http://www.ekaterina-fondation.ru/
ARTPLAY Club
Nizhnyaa Syromyatnicheskaya street, 10, str.9, entrance "C"
http://artplay.ru/